Lucas Chih-Peng Kao and Company – Portals
Date
28th Jul 2023
1.00pm - 5.00pm
Price
Free
All ages
Location
Tramway
Experience this 360 degree film experience through Virtual Reality!
Book a VR headset session at Tramway on 28 July, 1pm to 5pm
Bookings via eventbrite>
(Sessions last 30 minutes, not suitable for under-12s)
Have you ever imagined what Tramway looks and sounds like at night after closing? What sort of stories lie hidden and forgotten from the past one hundred years? 
Commissioned by Tramway, Portals is a new online experience, and three 360-degree performance films, that playfully explore and experiment with factual and fictional stories of Tramway as an imaginary folklore study. Meet John, a friendly ghost who looks after the building and recites Shakespeare; Bararomba, a mouse security guard; and Wylon, an ancient creature who is the last of its kind.
Portals is also available to watch online now 
Lead artist Lucas Chih-Peng Kao has created Portals through months of collaboration. Firstly, he facilitated story making workshops with young people and adults, and interviewed Tramway staff about the history of the building. He then worked with a group of theatre and performance makers to respond to those stories and interviews, their movement and dance filmed with a 360-degree camera on location at Tramway. Finally, Lucas worked closely with ISO digital media and software studio to create an immersive interactive experience, using 'Tramway XR', their 3D architectural model. ISO have created a dynamic sculptural space to house the 360-degree films, and an 'archive space' where viewers can listen to the stories collected throughout the project.
Portals is a combination of Lucas' ongoing research on collaborative performance making (The Fool's Journey, 2019), collective story-making and reimagination (Faery Trail, 2018) and 360- degree film as a new performance medium (Charon, 2020).
Read more about Tramway XR, created by ISO Design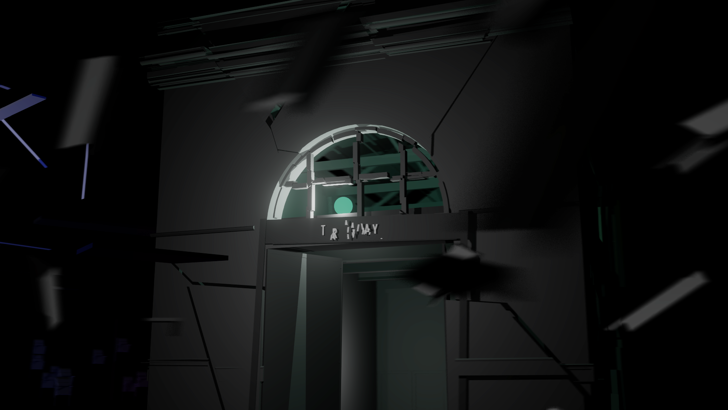 Credits
Lucas Chih-Peng Kao - Lead Artist/Filmmaker/Performer
Devised and performed with the company:
Adam Kashmiry - Performer/Maker
Sita Pieraccini - Performer/Maker
Katie Armstrong - Performer/Maker
Saehee Simmons - Designer/Maker
Aya Kobayashi - Movement Director
Robyn O'Donnell - Lighting & Sound
Andrew Murchie - 360 Camera Operator & Specialist
Matilda Strang - Producer
ISODESIGN - Web design
Thanks to Paul Sorley, John Baird, LJ Findlay-Walsh, and all the participants who took part in the storymaking workshop.
Note:
ISO is an award-winning Glasgow-based digital design studio.
They specialise in large-scale immersive installations for galleries, museums and visitor attractions internationally, working with leading artists, designers, curators and cultural institutions.
Visit their website