Tramway's Summer season announced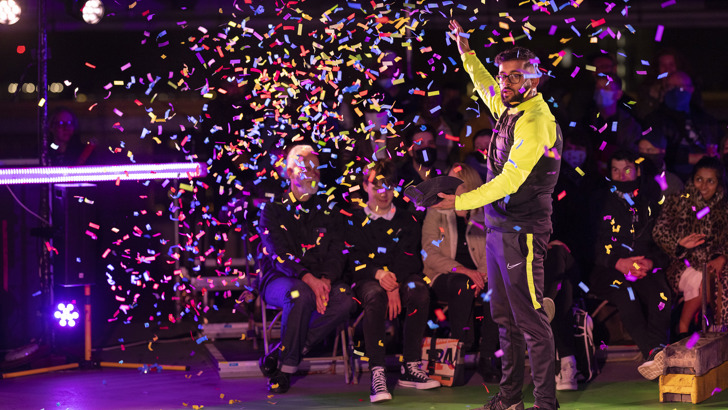 Today we announce our Summer 2023 season of perspective-shifting performance and visual arts.

The programme amplifies the voices of global artists through a diverse selection of events and exhibits which aim to provoke, entertain and unite those who grace Tramway's spaces.

Tramway once again brings ideas into Glasgow's wider communities with a series of Tramway Beyond Walls events. The off-site Peaceophobia (15-17 June) transforms a Glasgow city centre car park into an arena of thought in a boundary-breaking part-car meet, part theatre show. An unapologetic response to rising Islamophobia around the world, the show looks at the lives of three young Muslim men growing up in the shadow of the Bradford Riots, 9/11 and police harassment. Ali, Sohail and Casper find sanctuary in their faith and their cars, and look to control their own narratives.

In Portals (online throughout 2023, VR sessions 26 May and 28 July), Tramway's building becomes the star of the show as audiences are encouraged to immerse themselves in playful stories about the venues - both with in-person VR sessions, and online, from anywhere.
Explore grief through the experience of others and witness the cathartic power of sharing loss on an immersive sound-walk across the local cityscape, an installation of audio-visual responses to grief and quilted grief maps, and an intimate ritual-driven 1-to-1 performance from Afro-Portuguese dance artist Fabiola Santana. Built to be experienced separately or in sequence, A Home For Grief (12-16 July) manifests loss through communal actions which transcend boundaries and histories. There is also the opportunity to collectively share loss with others in A Home For Grief Death Cafe, a friendly space to explore thoughts and experiences of life and end-of-life.
Other stage highlights include After Party (25-26 May) and Stuntman (28 July). Charting personal and political comedowns starting with her Dad's 1997 election results party, After Party follows Annie Lowry Thomas' journeys in partying, politics and broken promises, scored by a live DJ. Stuntman is an intensely physical, funny and tender two-hander which centres on the relationship between violence and masculinity, wrapped up as over-the-top action sequences fused with real-life experiences of violence. Also, Tramway's summer season showcases the exceptional talents of Scotland's most ambitious young dancers in Project Y Evolution (15 July).
Delight in Tramway's visual arts programme with three unmissable exhibits which tread between culture and tradition from Glasgow to West Africa, Kurdistan and back. Glaswegian visual artist Jasleen Kaur opens her first major Scottish exhibition Alter Altar (until 8 October), just a stone's throw away from her childhood home. Through installations and kinetic, musical sculptures, Kaur reimagines tradition and inherited myths evoked by everyday objects and sound. In Ijem nke Mmanwu m (The Journey of my Masquerade) (until 4 June) Nigerian artist Ifeoma U. Anyaeji uses increasingly obsolete West African crafts to create colourful, intricately hand-crafted sculptures from non-biodegradable plastics, reflecting on both the loss of her community's traditions as well as its environmental problems. Then, through the all-seeing lens of oil, Jala Wahid travels between Britain and Kurdistan via sculpture, video, sound and text. Conflagration (Preview 23 June, until 10 September) is a co-commission with Baltic Centre for Contemporary Arts (Gateshead).
The visual arts programme takes on Tramway's Beyond Walls ethos too, supporting artist-led development of two small parks in Pollokshields through five new Art Fund commissions, and in collaboration with Glasgow City Council.
Jenny Crowe, Senior Manager, Tramway, said:
"Tramway presents a globally focused summer season with theatre that merges the personal with the political, and an exhibitions programme reflecting ideas and experiences from artists across continents - and as locally as our neighbourhood, Pollokshields. The return of Tramway Beyond Walls underlines our commitment to creating and presenting work in and for the community around Tramway, from an immersive soundwalk to the artist-led development of local green spaces."
Download the full press release as a Word Document 
Header photo: Peaceophobia, by Ian Hodgson