Vivarium Studio/Philippe Quesne: Farm Fatale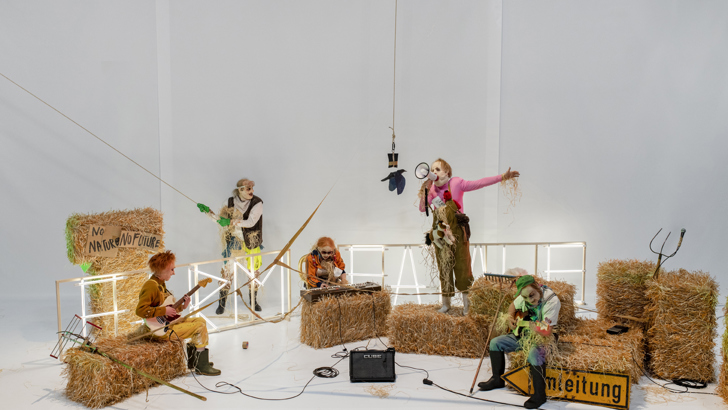 Date
7th Oct 2022
7.00pm - 8.30pm
Price
£12 / £9 concessions (subject to transaction fee, £1.50 online, £1.75 by phone)
Location
Tramway
Book tickets
0845 330 3501
0845 330 3501
A post-apocalyptic, not-so-distant future: Five scarecrows, who have lost their original jobs thanks to climate change, come together in a commune, in the artificial setting of a white stage, straw bales lying around like props from a bygone age.

These disarmingly funny characters are undeterred by the difficult conditions: Rendered redundant, they focus on making demo signs and slogans, and blowing pop music into the airwaves via pirate radio. Together they discuss potential forthcoming broadcasts. A feature on genetically modified carrots? A programme on cruelty? Insect deaths and pesticides? 
In Farm Fatale, world-renowned French artist and director Philippe Quesne - celebrated for his hybrid, strikingly visual performances - envisions an absurdly charming universe, inhabited by gentle dreamers and activists who have an urgent ecological message for our times.
ACCESS: This show is subtitled
Recommended for ages 12+
CREDITS
Concept, Set design and Direction Philippe Quesne
Performed by Léo Gobin, Sébastien Jacobs (part created by Stefan Merki), Nuno Lucas (part created by Damian Rebgetz), Anne Steffens (part created by Julia Riedler), Gaëtan Vourc'h.
Set design Collaborator Nicole Marianna Wytyczak
Costume Collaborator Nora Stocker
Masks Brigitte Frank
Light Design Pit Schultheiss
Sound Design Robert Göing, Anthony Hughes
Director's Assistant Jonny-Bix Bongers, Dennis Metaxas
Dramaturgy Martin Valdés-Stauber, Camille Louis
Stage manager François Boulet
Sound Grégory Adoir
Lighting Vincent Chrétien
This show premiered on March 29 2019 for the repertory of the Münchner Kammerspiele, Munich, Germany.
Production of the Creation
Münchner Kammerspiele – Munich and Théâtre Nanterre Amandiers, CDN.
Production of the Tour
Vivarium Studio - Charlotte Kaminski