Visit us
Information about visiting Tramway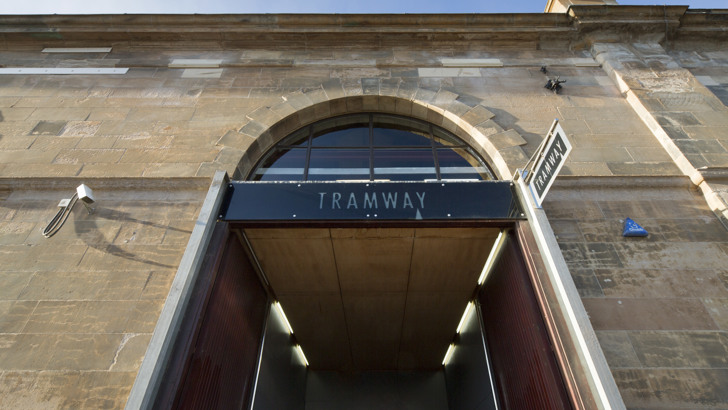 Opening Times
Our standard opening hours are: 
Mondays – Closed
Tuesdays-Fridays 12 noon – 5pm
Saturdays and Sundays 12 noon – 6pm
(We may open later for ticketed events).
Visit our What's On section to find out about current and upcoming exhibitions and events.
Café Bar
Our Café Bar offers a menu of sandwiches, soups, cakes, and hot and cold drinks. 
It is open from Tuesdays to Sundays, 12 noon until 4.30pm. 
(may open later for performances and evening events)
Facilities
Toilet facilities
There are gender neutral toilets located on the ground floor and mezzanine level, and separate male and female toilets on the upper foyer. An accessible toilet which is suitable for wheelchair users is available on each level.
WiFi
We have free WiFi which you can access via a short one-off registration. Once you have registered, you will also be able to use the WiFi in many other Glasgow Life venues including Glasgow Royal Concert Hall, The Mitchell Library, and other libraries and community facilities.
Access
It is our aim to make Tramway as accessible as possible for all our visitors.
Read more information about our facilities and accessibility in our venue.  
Getting Here
Tramway is in the Pollokshields area of Glasgow's south side. It is located at 25 Albert Drive, Glasgow, G41 2PE and is easily accessible by public transport or by car.
The closest train station is Pollokshields East, about a 2 minute walk.
(Please note, this station is not accessible by wheelchair.)
The nearest bus stops are on Pollokshaws Road, about a 2 minute walk and served by many services including numbers 57, 57A simpliCity, 38, 38B, 38C simplicity, 3 simpliCITY, 4 and 59.
The nearest Subway stations are West Street (18 minute walk) and Bridge Street (20 minute walk).
There is on street parking only. Please note, the adjacent Gurdwara car park is for visitors to the Gurdwara only, and should not be used by visitors to Tramway.
There is a bike hire station at Eglinton Toll, 5 minutes' walk from Tramway. There is limited space to park your own bike in the venue.
Scroll to the bottom of this page to see a map of our location.
Contact Us
Phone: 0845 330 3501
This line is currently manned from
12pm to 5pm, Monday to Friday and
12pm to 6pm, Saturday and Sunday

Email: info@tramway.org 
Covid-19 latest information
Throughout the pandemic, Tramway's priority has been to protect its staff and the public.
Glasgow Life reiterates Scottish Government advice to carry on taking sensible precautions to further reduce the spread of Covid. We are encouraging all visitors to continue following Scottish Government guidance and to wear a face covering within all indoor communal areas of our buildings. 
For the very latest information and advice from Glasgow Life visit the dedicated page on the website>
Tramway HQ
Address:
Tramway, 25 Albert Drive, Glasgow, G41 2PE