Martine Syms - SHE MAD S1:E4
A Glasgow International 2021 exhibition
Date
11th Jun - 25th Jul 2021
Price
Free - Drop-in - no ticket required
All ages
Location
Tramway
This event is now finished
--------------------------------------------
Martine Syms explores pervasive archetypes and depictions of black experience in American television and media, combining conceptualism, humour and social commentary to explore the sign of blackness in the public imagination. Drawing from early cinema, television, the internet, social media, and ambient footage produced by phones and surveillance, Syms addresses the ways in which representations of black identity and gender have been shaped throughout the history of moving image. 
Viewers are invited to move through an immersive installation rendered in Syms' signature purple – a reference to both to Alice Walker's 1982 novel The Colour Purple and the special effects backdrops used in film and video. An exposed wall scaffold zig zags across the gallery creating multiple vantage points through which to encounter Syms' ongoing episodic project SHE MAD (2015-present). A series of mirrored panels are cut to resemble 'cookie' filters - a device used to create lighting effects in film and theatre.
Weaving together autobiography, comedy, and critique, SHE MAD follows the character of Martine — an overachieving, stoner graphic designer who lives in Hollywood and aspires to be an important artist. The first episode in the sitcom format Laughing Gas (2016) was inspired by Edwin Porter's 1907 silent comedic short of the same title. One of the first screen performances by a black female actress, Bertha Regustus, Laughing Gas follows her character as she laughs uncontrollably after receiving nitrous oxide at the dentist's office. Syms reimagines Porter's film today, performing the role of "Martine" in a sequence of improvised vignettes shot in multiple formats.
Shown on two monitors, S1:E1 A Pilot for a Show About Nowhere (2015) explores the formation of black subjectivities through American television. Appropriating footage from a range of sources such as The Bernie Mac Show and The Oprah Winfrey Show, the work explores how black sitcoms hold the potential to break down preconceptions, yet often erase the struggles and realities of the people they represent. Syms continues these themes in a newly commissioned episode S1:E4 (2020) presented on a large LED mesh screen. S1:E4 begins with a micro-aggression at a client's party, triggering a flashback to the summer of 2000, when Martine was a camper at T-Zone, a week-long empowerment programme for teenage girls founded by a supermodel and business mogul. 
A portrait screen features Syms' Intro to Threat Modeling (2017). Narrated through email exchanges, screen grabs, and an avatar, rather than mapping a network's vulnerabilities, the work reveals the artist's own weak spots and internal negative thoughts, what she calls her "shame space". Syms' personified threat model explores themes of privacy, visibility and vulnerability in our increasingly technological world, charting "the way in which black identity is constantly being shaped through the experience of surveillance, and how technology mediates perceptions of race."


Co-curated and co-commissioned by Glasgow International and Tramway
Supported by Bridget Donahue Gallery, New York, Sadie Coles HQ, London and The Henry Moore Foundation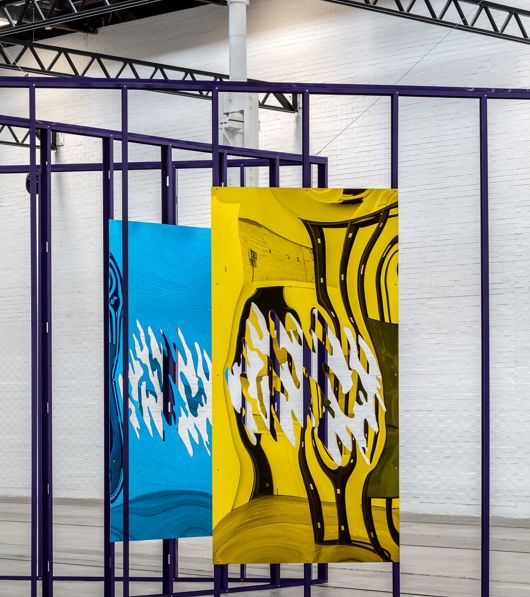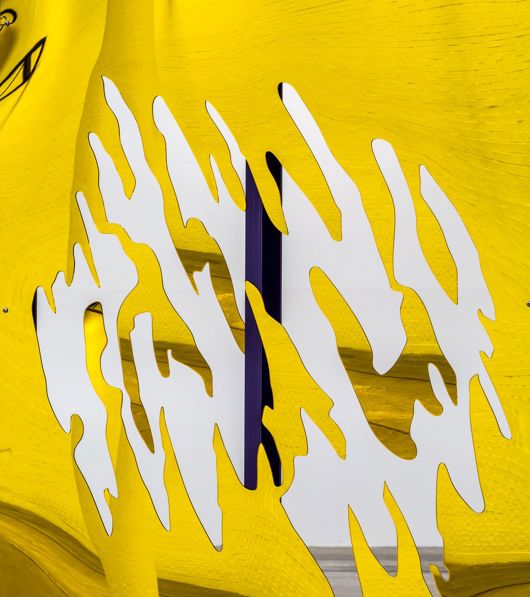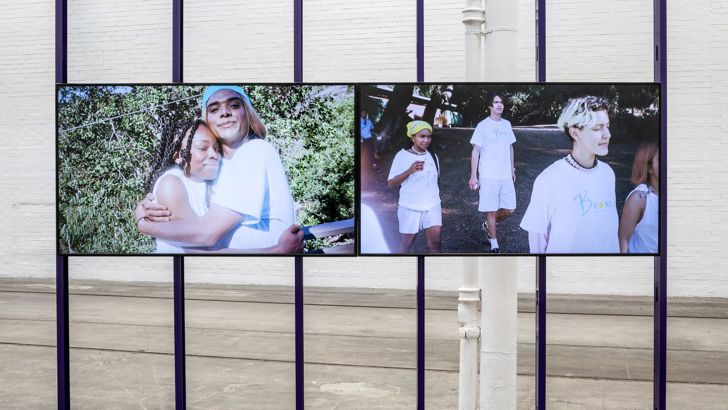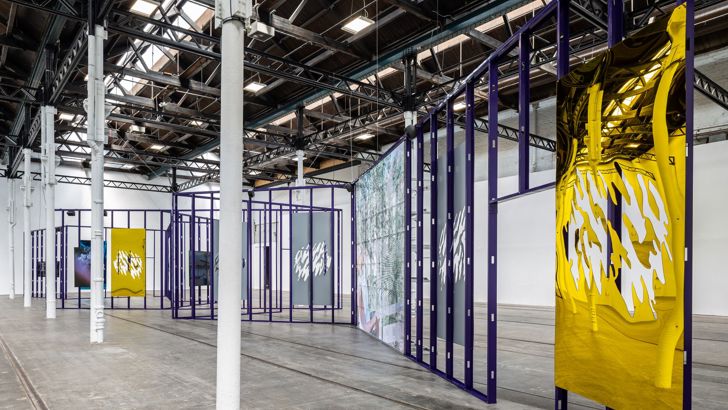 All images: Martine Syms, SHE MAD S1:E4 (Tramway, 2021)
Installation photos by Keith Hunter