Christelle Oyiri: Gentle Battle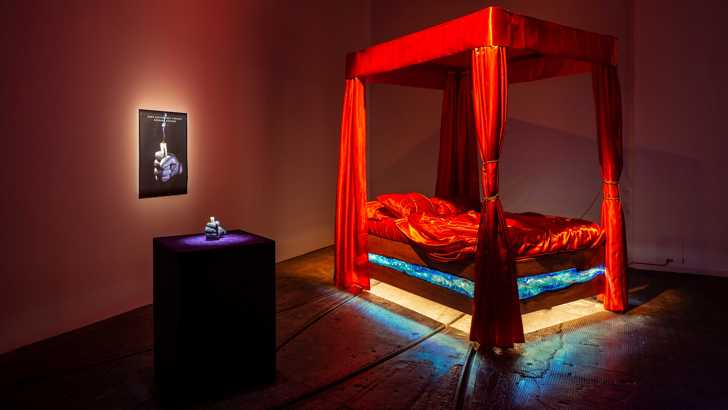 Date
29th Apr - 14th Aug 2022
Price
Free - Drop-in - no ticket required
Location
Tramway
Open Tuesday - Friday 12 to 5pm
Saturday and Sunday 12 to 6pm 
CLOSED Mondays 

*Artist's tour - Saturday 6 August*
Join a one-off tour of Gentle Battle by Christelle Oyiri -- book now>
Gentle Battle is the debut solo exhibition of Paris-based artist, DJ, producer and performer Christelle Oyiri (b.France, 1992). 

From Ivorian and Guadeloupean descent, Oyiri's identity is shaped by the diplomatic, social, and metaphysical conflicts inherited from colonization, and the trickle-down effect it has on cultural behaviours, familial history, and the experience of a wider African diaspora. With this trauma and conflict in mind, and specifically in the context of The Ivory Coast's 2002 military coup and ensuing war, Oyiri's work asks; How does warfare display itself? 
'In the most insidious and gracious manners: In our breaths, in our bodies, in our psyche, in our lineages, in our sound and in our music.'
Through symbolic elements as diverse as a mirror, an elephant tusk, a four-poster bed, and a karaoke booth, Oyiri generates doors, capsules and portals - 'time-spaces' - to other realities in which stories slip into histories, and modern mythologies mix and remix personal and collective experiences. Weaving together these forgotten mythologies and the political nature of dance music, Oyiri's work looks for alternative ways to understand and unbraid the complex knot of history, identity and experience, and contemplates self-acceptance as a 'weapon' for empowerment, seeking to reconcile the hopeful and optimistic with the revolutionary and pragmatic. 
Supported by The Art Fund and Fluxus 
Image: Christelle Oyiri, Gentle Battle, production still, etched mirror, photo courtesy of Simon Gérard, 2022