DIG 21: MHz presents STRUT
Date
7th - 10th Oct 2021
Price
Free
See age restrictions
Location
Various Locations
4 of 5
"A pumping fusion of sound, vision and bodies in motion "
4 of 5
"Definitely performance art that would appeal to all ages"
In Pollokshields Thursday 7th October
Govanhill Sunday 10th October
Performance time: 7pm-8pm
This performance is specifically designed for the residents of Pollokshields and Govanhill to enjoy from their windows and doorsteps. 
Scroll down to 'Route Maps | How to Watch' for full info on how you can experience STRUT.
---------------------------
STRUT is a night time outdoor performance and mobile projection parade by Megahertz featuring  5 local dance heroes from  Govanhill and Pollokshields who will perform personal choreographies reflecting the celebratory energy of our much loved neighbourhoods in their own styles of  Bhangra, Salsa, Romani, Hip-Hop and Contemporary .
These talented movers and shakers were selected from a wide-ranging Open Call, with the help of a community panel, and most of them are performing publicly for the first time.
The rotating one-performer parade weaves through the streets, giving the spectators time to watch several dances, and show their appreciation by cheering, flickering their lights and wave to their neighbours before the procession has moved away.  

ACCESS: Highly Visual / No Text
Supported by Creative Scotland, Tramway, Govanhill Baths Community Trust and Renfrewshire Leisure.
Route Maps | How to Watch
Download the route map for the Pollokshields performance, 7 October>
Download the route map for the Govanhill performance, 10 October>
These attachments are JPEGS.
STRUT is designed for local residents to watch from windows and doorsteps and on our route map we've also circled locations on the pavement where passers by can stand and watch. Look out for our STRUT signs on the street to see where you can stand to watch the performance as it weaves through the area*. We ask that you do not follow behind the performance.
We'll visit these streets between 7pm and 8pm during each performance:
Thursday 7th October: Pollokshields
Kenmure Street, Maxwell Road, Keir Street, Melville Street, Leven Street, Nithsdale Place.
Sunday 10th October: Govanhill
Daisy Street, Dixon Avenue, Gartuck Street, Calder Street, Annette Street, Dixon Street, Langside Road, Calder Street, Westmoreland Street.

COVID SAFETY
*If you are joining us on the pavement remember to maintain 1m distance from your fellow spectators to ensure COVID safety, respect each other's space and keep everybody safe. If you see a group at one of the viewing locations move to the next stop on the route to avoid overcrowding.

*Please ensure you wear a face covering if you need to talk to one of our stewards on the pavement.
General interaction between audience and performers should be avoided.

*Please do not attend these performances if you (or anybody with you) have any COVID symptoms or are waiting on the results of a test.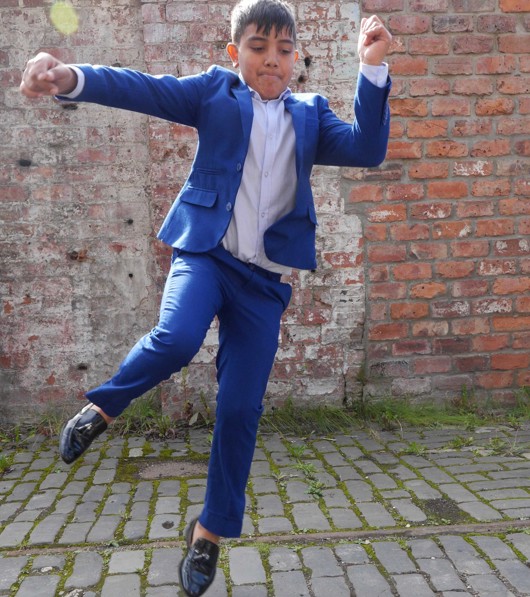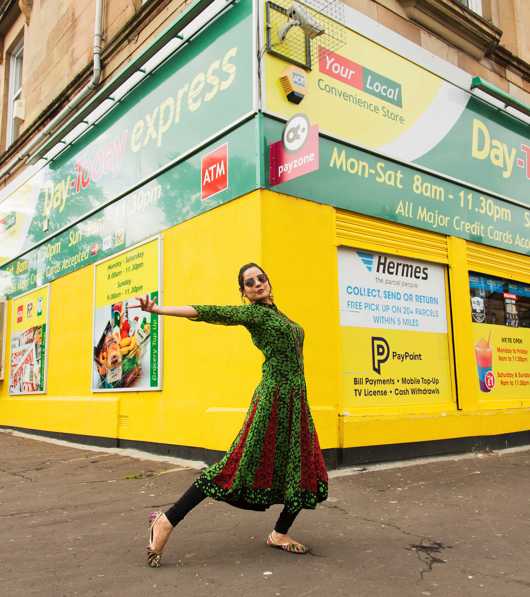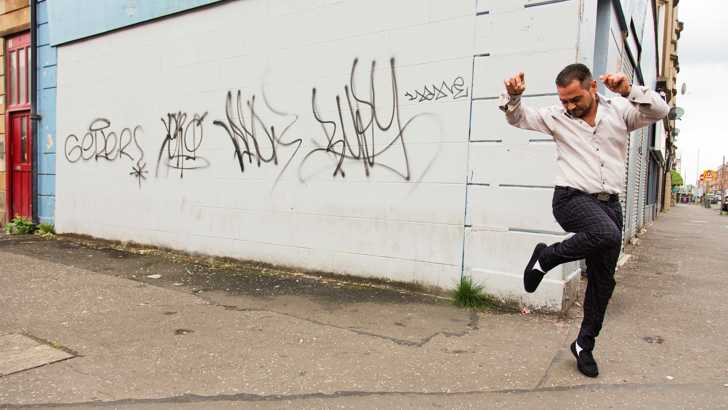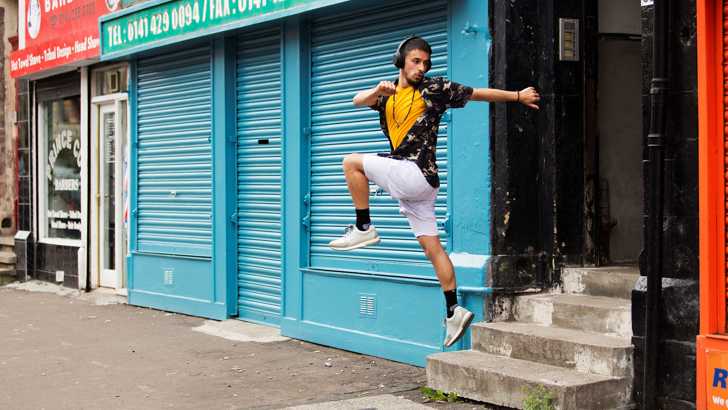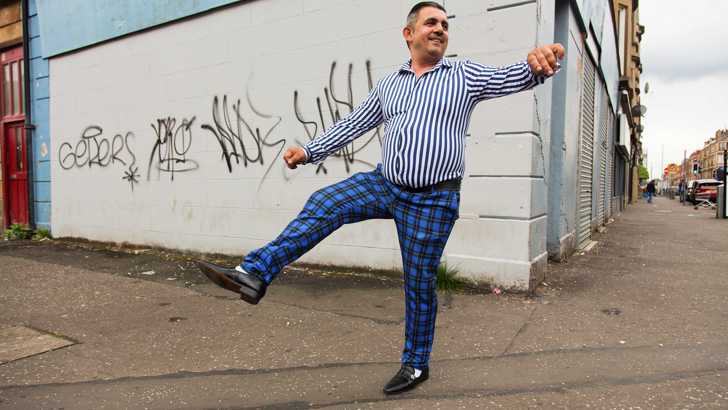 About MHz
Megahertz (MHz) is an award winning scenography-centred physical theatre company by creative duo Bex Anson and Dav Bernard, who have spent over a decade devising performances for theatres, big tops, music festivals and DIY spaces.
Founded in 2016, MHz have carved out a reputation for cultivating forward- thinking multi artform projects that mesh digital technology, new music and choreographic practice across experimental dance, street dance, aerial and ground based circus. The company's work is rooted in site-specific and immersive productions presented at music festivals and urban locations to audiences from varied age groups and backgrounds.
MHz are based in Glasgow and mostly work in association with producers FERAL.
Our team
STRUT Dancers: Seema, Joshua Macmillan, Nancy Jacinto, Nathan Mcgarvey, Mexico and Rusi Rostas.
Design, Direction and Community Engagement: MHz
Mentor/Dramaturg: Jennifer Jean-Charles
Dance Facilitators: Jennifer Taggart + Alexandra Tsiapi
Translator: Rahela Cirpaci
Stage Manager: Abigail McMillan
Community Panel: Usma Ashraf, Tabassum Niamat and Alexandra Tsiapi
Producers: Feral
Stewards and FOH Management: Bob Wong/In-House
All photos on this page are by Simon Murphy.