Ifeoma U. Anyaeji - Ijem nke Mmanwu m (The Journey of my Masquerade)
Date
18th Mar - 4th Jun 2023
Price
Free - Drop-in - no ticket required
Location
Tramway
Open:
Wed - Fri 12 to 5pm
Sat 12 to 6pm
Sun 12 to 5pm
Born in Benin City in Nigeria, Ifeoma U. Anyaeji creates colourful, intricately hand-crafted sculptures and installations from non-biodegradable plastics such as drinks bottles and bags. Applying a unique practice which she describes as Plasto-art, Anyaeji transforms these global pollutants into vibrant, fluid textiles using African Hair Threading techniques (Ikpa Owu in Igbo language). Through a meticulous process the artist shapes and layers these plastic braids into densely textural sculptural forms which encapsulate vivid colours, spirals, coils, circles and loops.
Once a predominant hair practice in Nigeria and neighbouring West African countries, Hair Threading is becoming increasingly obsolete. Ifeoma combines this architectural hair craft with traditional West African basketry and fabric weaving techniques, reflecting on the loss of such traditions as well as the environmental problems she encountered and still encounters in her community in Nigeria.
Weaving together personal and collective experiences and childhood memories, her distinctive sculptures and installations embrace forms and influences from her traditional Nigerian and Igbo culture, specifically folklore, craft-art, architecture, textiles, performance and music. In a new commission created for Tramway titled 'Ijem nke Mmanwu m (The journey of my masquerade)' Anyaeji references the Nigerian Igbo Masquerade (Mmanwu), a masked rite traditionally only performed by men, which involves an elaborate use of performance and costumes to evoke human-ancestral relationships. Anyaeji re-imagines this masculine ritual in sculptural form using traditionally feminine craft practices, exploring gender-categorized craft and decorative art as viable means of artistic expression, as well as political and subversive potential.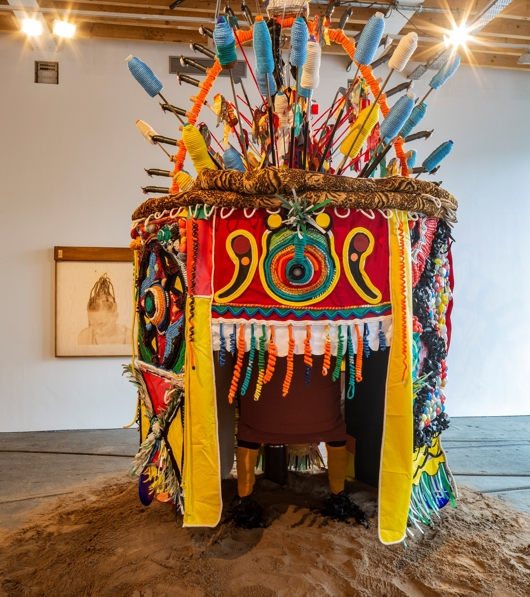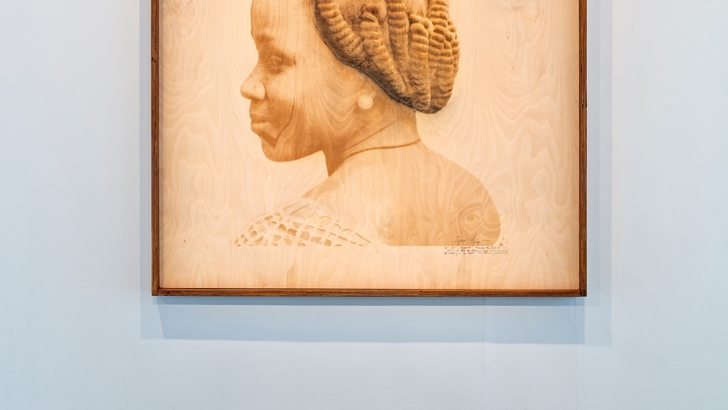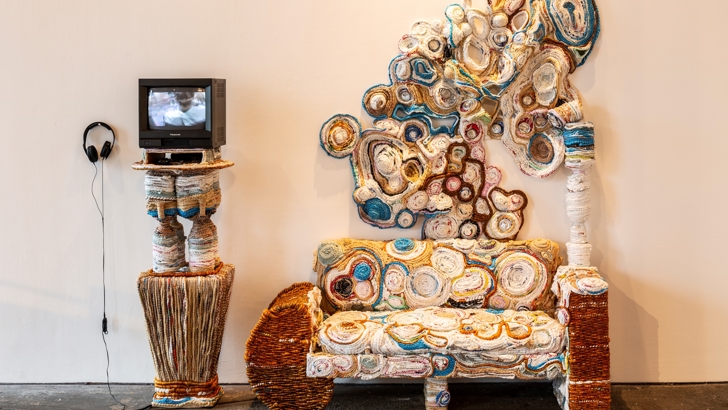 All images by Keith Hunter

Film by Natalie McGowan