A colossal projected artwork will top a special evening of music and performance at Tramway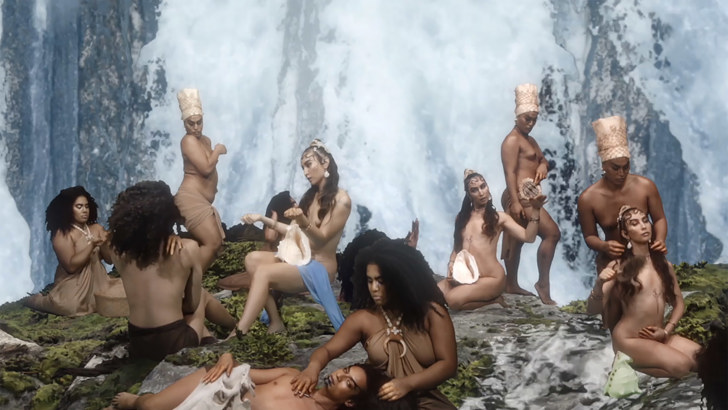 Friday 28 October promises to be a real one-off at Tramway. For one thing, a performance of Cade and MacAskill's The Making of Pinocchio (7.30 to 9pm) will be a warm homecoming for a production, long supported by the venue, which comes to our T1 stage trailing 5- and 4-star reviews in its wake.
But this true tale of love and transition is also part of a bigger evening which goes beyond Tramway's theatre spaces, with Club Ate's In Muva We Trust (9.30pm), a colossal artwork which will be projected onto Tramway's façade from The Hidden Gardens. Presented as a 12 minute film, and set in the mythical Skyworld, it asks the question: "In the face of an uncertain future, how do we, as queer communities of colour, cultivate hope and create possibility?" 
In between shows, audiences are invited to enjoy a drinks reception, where they will encounter a specially commissioned lighting design by Dav Bernard that will transform and illuminate the foyer and bar area, accompanied by music from DJ and multidisciplinary artist TALK2FRAN.K.
To join in from start to finish, you can book a discounted double bill ticket for just £11/£8. 
Book double bill tickets.
Find out more about The Making of Pinocchio
Find out more about In Muva We Trust
Individual tickets are available for both The Making of Pinocchio and In Muva We Trust
Stereo club night discount
Bar and live music venue Stereo is hosting a club night on Friday 28 October, featuring DJ and musician Juliana Huxtable. Use this link to book a discount ticket now, and keep the party going after your evening at Tramway.