Announcing our new Autumn season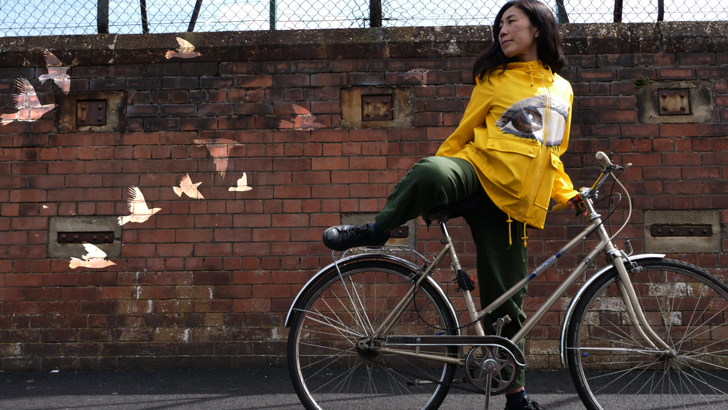 Today (Thursday 20 July 2023), we announce an impressive Autumn season featuring Scottish and international world premieres across the venue's performance and visual arts programmes.

Tramway Beyond Walls continues outwith Tramway's physical building, featuring brilliant spectacles including Aya Kobayashi and Monika Smekot's Wheel See - featuring 20 dancers on bikes popping up across Glasgow - and Walker Movement Theatre Company's THREAD, taking to treadmills to mix stunt performance with contemporary dance.
As the evenings get darker, the programme moves indoors as two electrifying festivals return to illuminate the venue: Experimental audio-visual feast Sonica (29 and 30 September) and innovative international performance festival Take Me Somewhere (13 - 28 October). The programme also brings a host of Scottish and international world premieres and touring shows from artists including Sarah Hopfinger, Roberta Jean, Skye Reynolds and Khamlane Halsackda, Al Seed and Shotput.

As we move into a new season, powerful female vocals resonate from both of Tramway's galleries in two immersive sound installations. In Jasleen Kaur's ambitious exhibition Alter Altar (until 8 October) a series of kinetic, musical sculptures explore ideas of sonic memory and the artist's upbringing in Glasgow. Jala Wahid's Conflagration (open now until 10 September) explores the relationship between Britain and Kurdistan through the lens of oil.

Later in the year, we present Billie Zangewa's A Quiet Fire (from 29 September) - the Malawian artist's first solo exhibition in a Scottish institution - and Sydney-based Ramesh Mario Nithiyendran's first institutional solo exhibition in the UK and Europe. Idols of Mud and Water (from 24 November) transforms the main gallery into a buzzing mythological playground in which large-scale, hybrid, human-animal sculptures evoke ancient ruins and totemic idols. Tramway will also present a new moving image programme, Cinema Despite (1-3 September), which showcases artists' film and video in Scotland.
Jenny Crowe, Senior Manager, Tramway, said:
"Autumn 2023 is a tantalizing season of homegrown talent and international premieres as Tramway welcomes back Cryptic's 3-day Sonica celebration, the mesmerizing Take Me Somewhere, and hosts the first institutional solo exhibition for Ramesh Mario Nithiyendran in the UK and Europe - as well as a host of critically acclaimed Scottish theatre companies and artists.
Artists across the programme find beauty, tenderness and positivity as they navigate the more challenging aspects of life, with works asking pertinent questions about issues affecting us all."


Download the full press release