Amartey Golding public programme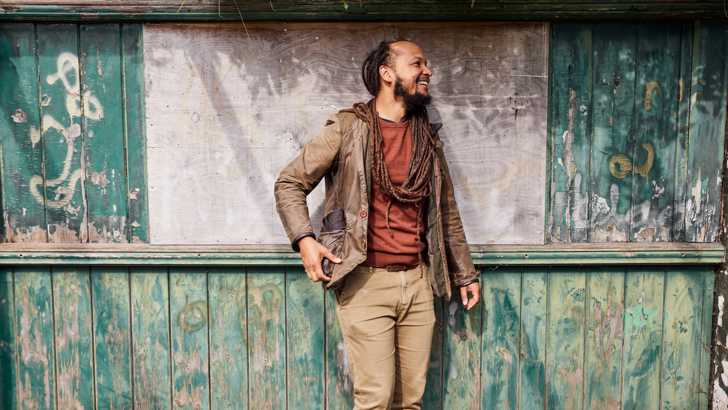 This month we present a public programme to accompany Amartey Golding's film installation Bring Me To Heal, exhibiting at Tramway until Sunday 6 March.
On Saturday 26 and Sunday 27 February, you are invited to join three live events in Tramway to consider some of the themes of Amartey's work. These include a talk by the artist himself (see more details below).
With limited capacities, early booking is strongly recommended.
All events are free but ticketed. Transaction fees will apply to online bookings and phone bookings (£1.50 online, £1.75 by phone).
Amartey Golding In Conversation
Saturday 26 February, 3pm to 4pm
Amartey Golding will share anecdotes, ideas and histories that underpin the two year journey of creating his exhibition Bring Me To Heal, reflecting on generational trauma in Britain and possible rituals for collective healing.
A rare chance to enjoy a live in-conversation from the Brighton-based artist.
Amartey Golding: Bring Me to Heal | Feeling Tour with Gaylene Gould
Sunday 27 February, 12 noon to 2pm
Led by Gaylene Gould - spacemaker, broadcaster and founder of creative company The Space To Come - this alternative exhibition tour invites participants to share the embodied feelings, sensations and cultural memories evoked by Amartey Golding's installation Bring Me To Heal as it tells its epic fable of trauma and healing.
THIS EVENT IS FULLY BOOKED
Amartey Golding: Bring Me to Heal | Reasoning: A Live Conversation
Sunday 27 February, 3.30pm to 5pm
In a special interdisciplinary live conversation, Amartey Golding and Gaylene Gould will explore with an invited panel the under-examined area of the emotional legacy and inherited trauma of white Britain - issues explored in Bring Me To Heal - and how we might begin to heal as a nation.
The discussion will be followed by a Q&A.


More info/book tickets>
The Bring Me To Heal UK tour is presented by Forma Arts and Media with partners Tramway, the Attenborough Centre for the Creative Arts in Brighton, and 198 Contemporary Arts and Learning in London.
It will next tour to 198 Contemporary Arts and Learning, London
17 March - 1 May 2022
The exhibition at Tramway was realised with support from the Art Fund and Creative Scotland.