Tramway hosts first major Scottish exhibition from Jasleen Kaur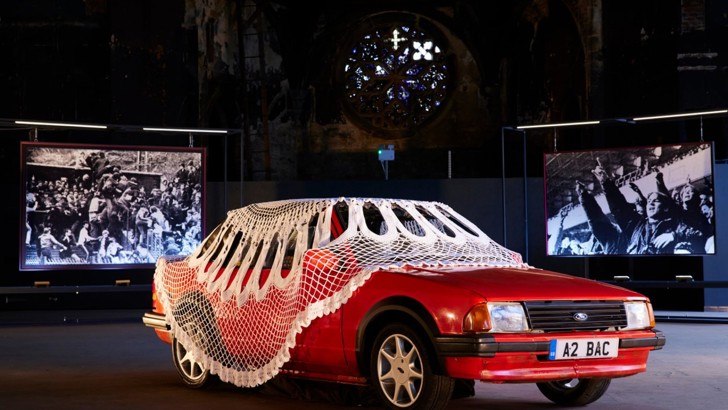 Jasleen Kaur - Alter Altar
Preview: Thursday 30 March 2023; 7:30pm - 9:30pm
Exhibition: Friday 31 March to Sunday 8th October 2023
Jasleen Kaur (b.1986) was raised in Pollokshields, Glasgow, not far from Tramway. Filling its main gallery with sound and making a temporary space to gather, her new exhibition of work maps and traces these local geographies in relationship with the artist's personal lineages.
Through a series of installations and kinetic, musical sculptures Kaur explores ideas of sonic memory and the cultural resonances of everyday materials and objects. Axminster carpet, bottles of blessed Irn Bru, football scarves, political flyers and salvaged family photographs are re-worked to evoke new cultural readings. In Kaur's work, the everyday finds new and alternative meaning and explores the ways in which cultures and customs are perpetuated.
An expansive sky suspended in the gallery taps into religious imagery, the heavens, angelic realms, a place of liberation. Strewn among the clouds are various objects and detritus that cling to Kaur's personal memories - political leaflets, newspaper clippings, commodified images of saints and sinners, all remade from recollections. The words 'LOOOOONGING' and 'CAN'T DO IT' feature on a fan scarf and tracksuit and symbols and logos on clothing consider how bodies enact and perform ideologies.
Kaur has incorporated worship bells into a series of new kinetic sculptures resembling gesturing hands that point and tap. Once made from Indian rose wood, the hands are rendered by the artist in brightly coloured veneers echoing the prevalence of faux and facades in migrant aesthetics. These large-scale, musical sculptures tap automatically in syncopated rhythms, the bells holding a pulse for the space, moving to faster paced, ecstatic rhythms that echo communal chanting or call and response. They also signal and point repeatedly to images that act as symbols of cross-cultural solidarity.
Kaur explores music's potential to reflect on existing identities whilst simultaneously constructing new ones in the process. Her work considers the impact on shared Sikh-Muslim cultural heritage following the 1947 Partition of the Indian subcontinent under British colonial rule, particularly the subsequent degradation of Sikh-Rababi musical heritage. These themes are echoed through the inclusion of colonial instruments such as the Indian Harmonium, tracing a broader narrative thread across the exhibition which explores the continuing geo-political and cultural ramifications of colonial histories and State power.
"I learned devotional singing on a harmonium from my dad, but since then, I think of my singing practice as a decolonial practice."
Together the works create a choric structure for the exhibition which weaves together the soundtrack of Kaur's upbringing in Pollokshields. This sonic and psychic landscape includes an immersive sound work featuring the artist's own vocals, improvising with inherited practices from her Sikh upbringing as well as political pop, Sufi Islamic devotional music and colonial instruments re-imagined as sonic sculptures. Playing independently and in unison, the space emits a polyphony of sound and identities, reflecting the slipperiness of grasping a singular cultural identity that history often imposes.
Throughout the exhibition Kaur evokes choric formations and the ways in which community and cultural identity is performed through collective action. The space itself is a re-imagined hybrid of various places of devotional worship — the carpet, ceiling panels echoing temples, waiting rooms and makeshift contexts, whilst also creating new inclusive architectures for an imagined community.
Download the full press release
Image: Jasleen Kaur, Sociomobile, Red Ford Mk3 Escort Cabriolet XR3i, crocheted doily and sound, British Textile Biennial 2021