Tramway unveils a new sculpture in neighbouring Hidden Gardens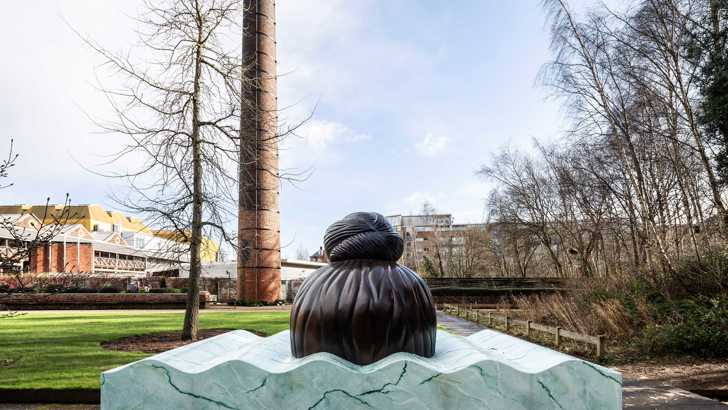 Tramway presents a new installation by artist Jasleen Kaur as part of its Tramway Beyond Walls programme
Visitors to The Hidden Gardens, a beautiful green space adjacent to Tramway, will notice a new addition: The first thing I did was to kiss the ground, a work by London based visual artist Jasleen Kaur (b. 1986, Glasgow).
The sculpture is a large-scale semi-abstract form that features several components and includes a structure that resembles the top of a Sikh head including a top-knot. The work also takes its inspiration from the decorative processional 'Palki' floats that feature in Sikh celebrations. It represents, Kaur says, "a cognitive space ... of these other ways of thinking, these other ways of knowing."
The installation is the first in a season of public artworks which will be commissioned or placed, under the banner of Tramway Beyond Walls, which has been made possible by a generous Art Fund Reimagine grant. The season will encourage audiences to reflect on our collective futures, exploring environmentalism, social justice and health. 
Elements of The first thing I did was to kiss the ground include multiple points of reference: a graphical weave of water is painted to look like marble, echoing the marble renders of the Gurdwara temple and the prevalence of faked veneers in migrant aesthetics; while its long top-knotted hair evokes the unassimilated Sikh identity of uncut sacred hair — often cut by early migrants to counter racism but reclaimed after Operation Blue Star in 1984, in solidarity with Sikhs in India. Kaur's work explores the diasporic experience, allowing different cultural symbols to overlap.
Jasleen Kaur's art is an ongoing exploration into the flexibility of culture and the layering of social histories within the material and immaterial things that surround us. Her practice examines diasporic identity and hierarchies of history, both colonial and personal.
The work was originally commissioned by Turner Contemporary for 'England's Creative Coast' 2021.
About the artist
Jasleen Kaur was born in 1986, Glasgow, and lives and works in London. Her recent commissions include Wellcome Collection, UP Projects, Glasgow Women's Library, Market Gallery, BALTIC Centre for Contemporary Art, Eastside Projects and Hollybush Gardens. Kaur's work is part of the permanent collection of Touchstones Rochdale, Royal College of Art and Crafts Council.