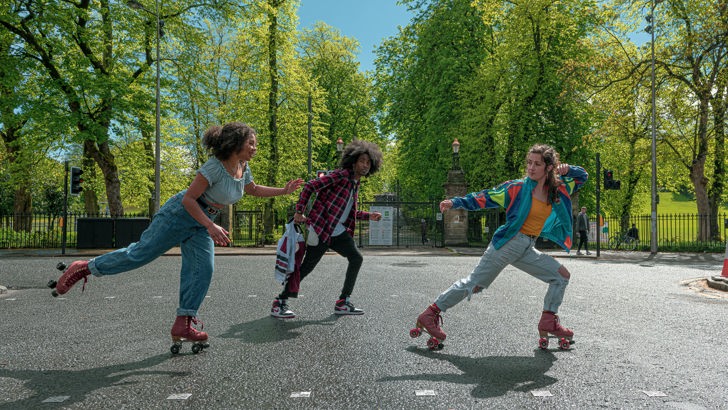 Featuring the talents of Dyron Sandoval, Jenn Taggart, Sugar and Spin and Zenga the Titan, and created and directed by David Banks. 
A series of pop-up presentations from different artists, Traffic Light Cabaret brought performance to the streets of Pollokshields and Govanhill in June 2021, with a celebration of street culture that gave passers-by a moment of relief through performance. 
The series has been filmed for future broadcast so that people will also have a chance to encounter it online. Details to follow!
Images below show Sugar and Spin's Libby Odai and Chrissie Ardill posing with Dyron Sandoval (centre), and Zenga the Titan.
Photos by Brian Hartley.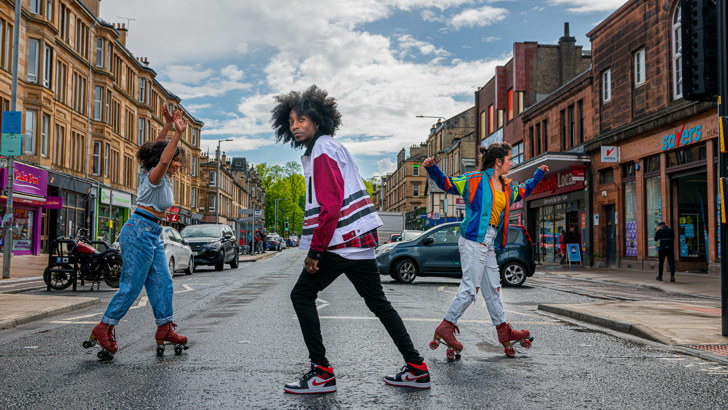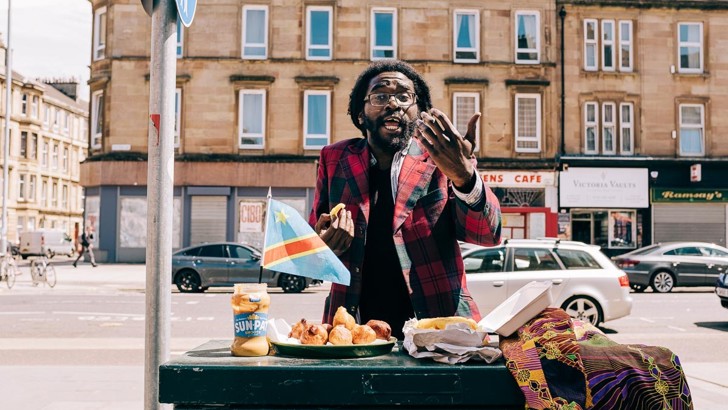 About the Performances
Tuesday 1 June saw dance take 'centre stage.' Freestyle dance champion Dyron Sandoval spread the joy of movement, and lit up the streets with the help of his son. There were also pop-up performances from Jenn Taggart, a dance artist, choreographer and teacher based in Paisley. Her appearances were part of her Weston Jerwood Creative Fellowship.
On Wednesday 2 June, Sugar and Spin took a turn! The skating collective made up of Libby Odai and Chrissie Ardill, is based in Glasgow, but they want to bring roller skating to the world! They skated across various iconic spots in Govanhill and Pollokshields in an action-packed tour.
On 28 June, Zenga the Titan brought his soulful blend of hip hop, music and poetry to local fish and chip shops and sweet shops to perform his music poem Mikates and Fish and Chips. The film was published on our Instagram TV channel on 30 June to celebrate Congolese Independence Day.
Watch Zenga's performance below. 
About the Filmmaker
Traffic Light Cabaret will be filmed by Johnstone MacPherson Stewart, a visionary filmmaker from Scotland who has made a name for himself through his unique, dynamic style of storytelling.
His filmmaking passion originated from his deep involvement in the action sport Parkour. His cinematic action films and continuing involvement with free running community The Motus Projects has brought him international recognition. 
Johnstone's own physical agility and strength, together with his sharp eye for movement, allow him to achieve shots that would be otherwise unattainable.
About the Creator
Traffic Light Cabaret is created and directed by David Banks, a Glasgow-based artist and movement specialist who aspires to reclaim cities and reduce inequality through community arts and performance.
David also heads our Community Architects panel, who co-designed the Tramway Beyond Walls programme.