Tramway's History
Explore the history of one of Scotland's best-loved arts venues
Introduction
Tramway is one of Scotland's most internationally acclaimed venues for contemporary visual and performing art. The very distinctive architecture, character and history of the venue itself is a catalyst to artistic practice, and has ensured that Tramway is a unique place to produce and engage with inspiring and diverse contemporary art.
Founded over thirty years ago in a former Tram depot, Tramway is a vast former industrial space which encompasses multiple galleries and theatre venues. The venue is now an architectural and cultural landmark that has played a vital role as both an artistic and community hub for many years. 
Read on to find out a little more about the venue's origins as an arts venue.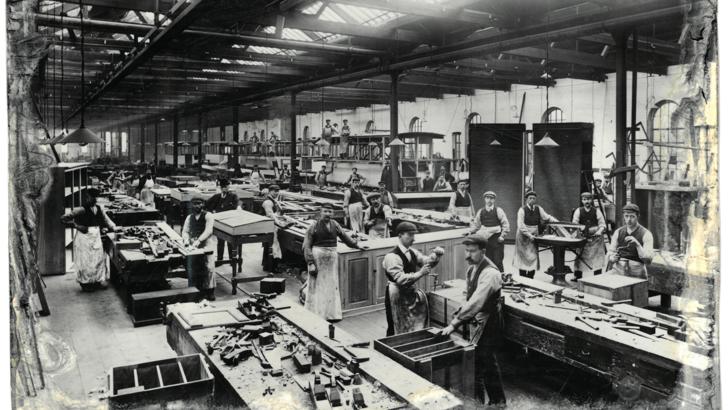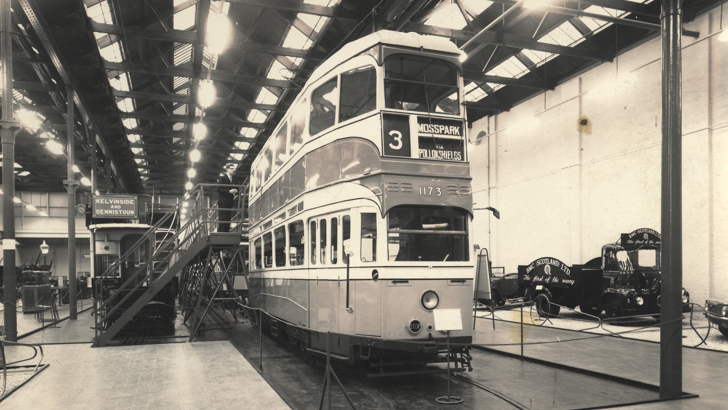 Images above:
Right - Coplawhill tram shed factory floor
Left - The original Museum of Transport 
The building began life in 1893 as the Coplawhill tram shed and, in the early years of the twentieth century, it served as the city's main tram terminus, depot and factory. Following the demise of the trams in the 1960s, the building was transformed into the Museum of Transport. In 1986, when the Museum of Transport to Kelvinhall in Glasgow's west end, the vacant building faced demolition until ambitious plans were developed during the late 1980s in preparation for Glasgow's year as City of Culture 1990.
Tramway was launched as a direct result of the search for a venue that had the capacity to house what would be, in 1988, the only UK performances of Peter Brook's Mahabharata. In 1989, the acclaimed British sculptor Andy Goldsworthy staged his now internationally renowned project Snowballs in Summer in what would become Tramway's principal gallery space.
Images below:
Right - Production shot from Peter Brook's Mahabarata
Left - An early gallery layout at Tramway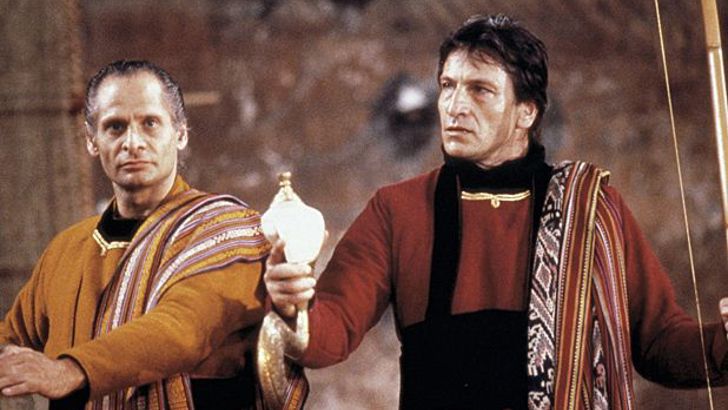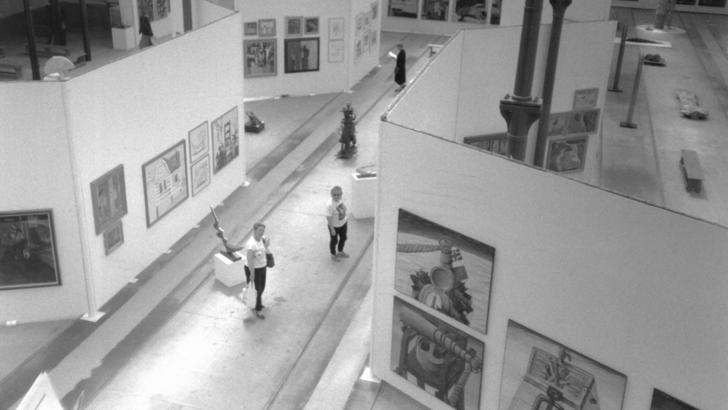 Ambitious plans were developed for Glasgow's year as City of Culture 1990 and Tramway's full potential as a major International venue was realised during 1990/91. In 1998 Tramway was awarded Scottish Arts Council National Lottery funding to help redevelop the vast building with improved theatre and exhibition spaces.
From then on, Tramway's artistic programme has been built upon its historical reputation, evolving with recent developments in artistic practice to encompass interdisciplinary ways of working and embracing new approaches to artistic production. Its policy of risk-taking and innovation has seen it bring some of the best international work to Scotland and the UK for the first time.
Since 2004, Tramway has hosted and co-commissioned work biannually for the prestigious Glasgow International Festival, and in 2015 it hosted the Turner Prize exhibition in its galleries, the first time this prestigious exhibition had travelled to Scotland. Also in 2015, Tramway founded Dance International Glasgow (DIG) a biennial festival of dance for the city dedicated to pushing performance in new directions.

To read more about our recent exhibitions and performance programme visit our Archive, which covers 2015 onwards.
To find out more about Tramway today, visit About Tramway.