Fernanda Muñoz-Newsome: INCHOATE BUZZ
Date
21st Apr 2023
7.00pm - 9.30pm
Price
£10/£8 (tickets subject to transaction fees: £1.50 online, £1.75 by phone)
Location
Tramway
Book tickets
0845 330 3501
0845 330 3501
Artist and choreographer Fernanda Muñoz-Newsome presents INCHOATE BUZZ, featuring works and performances by invited artists. An immersive work that invites audiences into sensorial experiencing, tuning to perception, touch, voice and sensation.

INCHOATE BUZZ is an ongoing project conceived by choreographer and dance artist Fernanda Muñoz-Newsome, merging the artist's practices of performance, collaboration and curation. This iteration will feature performances by Fernanda Muñoz-Newsome and invited artists SERAFINE1369, Eve Stainton and Isabel Rosa Muñoz-Newsome. Core collaborators are sound designer/ new media artist Josh Anio Grigg, artist and researcher India Harvey and light designer Charlie Hope who create an immersive sensorial environment. 
INCHOATE BUZZ explores relational presence with our environments and each other, re-orientating amongst performance, music, sculptural soft objects and somatic practices. Audiences are invited into a sensorial space traversing different qualities of liveness through sensory perception, voice and movement.
Recommended for ages 12+
Running time - 2.5 to 3 hours 
ACCESS
BSL interpreted
Relaxed Performance - people can come and go from the space as they wish
Seating is provided around the outside of the set 
Audience notes
TOUCH: This show does involve optional minimal touch, red wristbands are available if you would rather not participate in this. During the performance, artists will signal when touch will happen so you can choose to participate or not in the moment.  
SHOES: When interacting with the soft set, you'll be guided to take your shoes off in the designated shoe area. Shoes are OK to be worn in the rest of the space. 
Download the programme for INCHOATE BUZZ
Credits
INCHOATE BUZZ is conceived and curated by Fernanda Muñoz-Newsome
Invited artists and performances by: Fernanda Muñoz-Newsome, SERAFINE1369, Eve Stainton and Isabel Muñoz-Newsome
Core artists and collaborators:
Sound/ new media design Josh Anio Grigg
Set design India Harvey
Light design Charlie Hope
Producer Eve Veglio-Huner
Production manager Josh Anio Grigg
Supported by Arts Council England, CONTINUOUS Network, Siobhan Davies Studios and Tramway.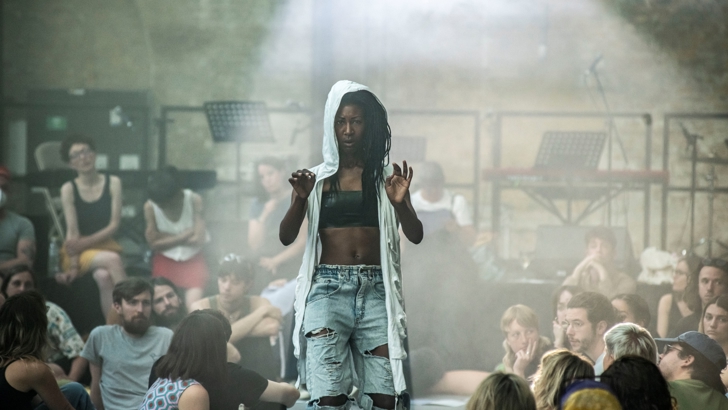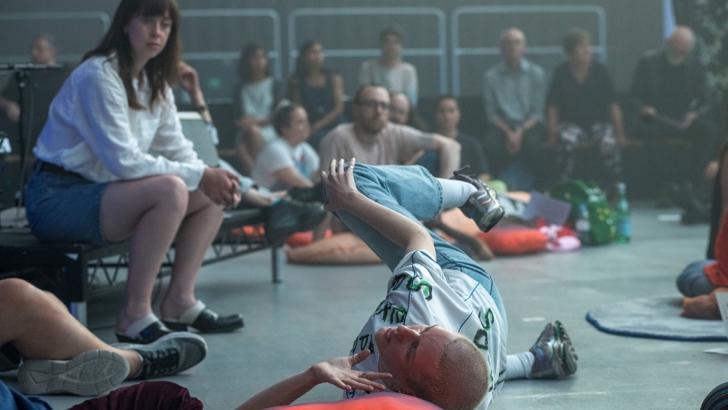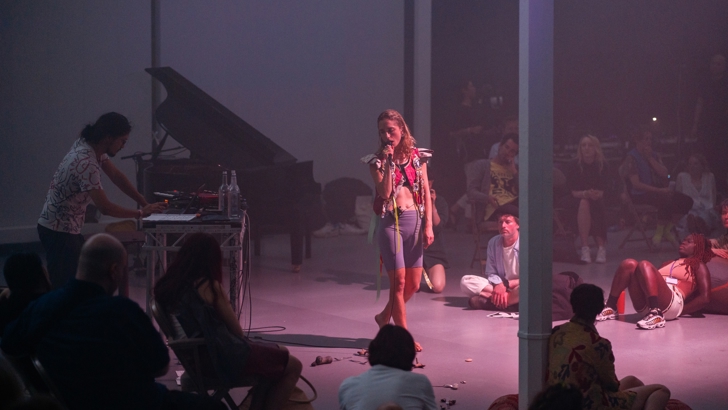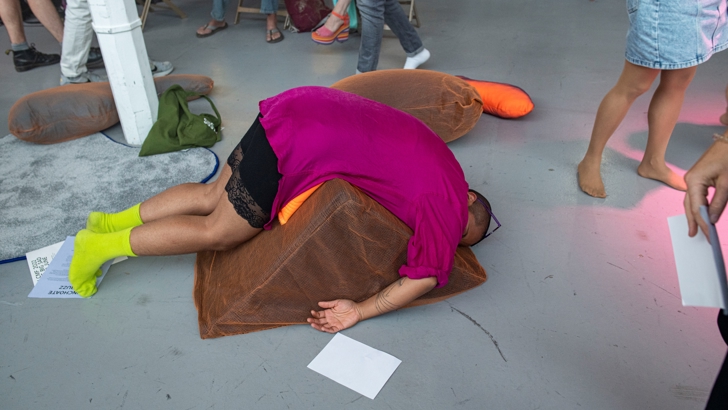 Images
SERAFINE1369 by Anne Tetzlaff
Eve Stainton by Anne Tetzlaff
Isabel Rosa Muñoz-Newsome by Anne Tetzlaff
INCHOATE BUZZ (audience) by Dawid Laskowski
Header image: INCHOATE BUZZ, photo by Anne Tetzlaff