'Community Architects' help to shape Tramway Beyond Walls season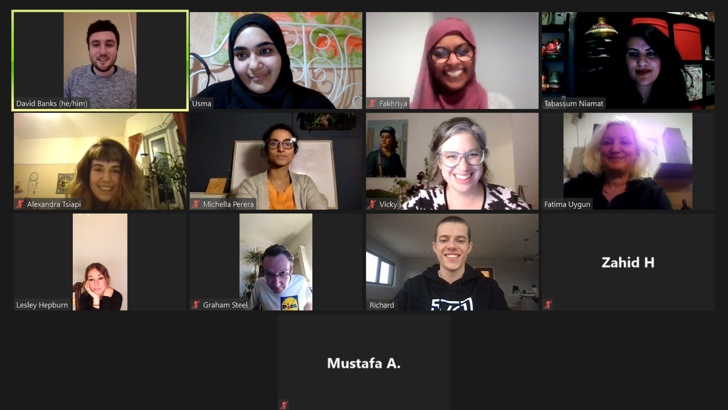 Tramway is delighted to share news of our Tramway Beyond Walls season, and the Community Architects panel at the heart of it.
Tramway Beyond Walls is a season of contemporary performance, visual art and creative participation which seeks to engage with a diverse local audience outside of the physical limits of our building. At the heart of Tramway Beyond Walls is our panel of 'Community Architects' panel, made up of residents and artists that are local to our neighbouring communities of Pollokshields and Govanhill, the two most ethnically and culturally diverse communities in Scotland. We want to support the everyday experts across our local community who we feel hold the key to informing and nurturing the creative future of our city.
The panel - which includes Tabassum Niamat, Usma Ashraf, Graham Steel, Fatima Uygun, Fakhriya Abdulkadir, Alexandra Tsiai, Zahid Hasan, Mustafa Abdirahman, Michella Perera, and Richard Dickson - have been meeting regularly since the beginning of this year, working together to co-design the Tramway Beyond Walls programme which will span Spring/Summer 2021.
We are also pleased to introduce David Banks as Lead Artist and Creative Facilitator, whose role it is to support the creation and delivery of this new initiative. Since December 2020, he has been facilitating the panel, as well as building advocacy and support for the project, and nurturing relationships within our local communities, whilst championing contemporary performance and artists.
Based in Glasgow, David's strong socially engaged practice specialises in performance, movement, and design. He draws inspiration from urban culture and aspires to reclaim cities and reduce inequality through community arts and performance.
We are thrilled to be working with such a brilliant group of individuals, and look forward to sharing more details of the Tramway Beyond Walls programme soon. Find out more about the artists behind the programme here