Common Wealth and Fuel present Peaceophobia
Date
15th - 17th Jun 2023
Price
Pay what you can: £14/ £10 / £6
Location
Candleriggs South
Book tickets
0845 330 3501
0845 330 3501
PLEASE NOTE advance ticket booking is essential as there will be no box office facilities on site at Q Park. Bookings subject to transaction fee, £1.50 online, £1.75 by phone
"★★★★★ A testament to vulnerable, collective storytelling … a powerhouse piece with beautiful vulnerability"
"★★★★ A rare insight full of energy and movement - speaks truth to power"
"Winner – Best Stage Production, Asian Media Awards 2022"
Co-created by Common Wealth, Speakers Corner and Bradford Modified Club. Written by Zia Ahmed.

Thursday 15 June, 6.30pm and 9pm (BSL interpreted at 6.30pm)
Friday 16 June - 6.30pm and 9pm
Saturday 17 June - 2pm
Q-Park Candleriggs, Merchant City, Glasgow
Note the pedestrian entrance is at 18 Candleriggs, G1 1LD (vehicle entrance at 37 Albion Street)
(Doors open half an hour before show time) 
If 'Islam' comes from 'peace', how can you fear peace? 

Peaceophobia is an unapologetic response to rising Islamophobia around the world. Part-car meet, part-theatre, the show explores how you find peace in a world that tells you who you are. 

Growing up in the shadow of the Bradford Riots, 9/11 and police harassment, cars and faith are a sanctuary, an escape, an expression for three Muslim Pakistani men. Ali, Sohail and Casper are taking control of the narratives around their religion, their city, and their cars. 
Staged in a carpark with a Supra, a Golf and a classic Nova, Peaceophobia brings together cars and theatre with cinematic lighting and an original electronic sound score. 
PLEASE NOTE advance ticket booking is essential as there will be no box office facilities or ways to buy tickets on site at Q-Park.  Ticket sales for Thu 15 and Fri 16 June will close at 4pm on the day of the performances. Ticket sales for Sat 17 June will close at 11am.
CONTENT NOTES
Language: Mild swearing
Content: Created from the lived experiences of the Co-Creators, the show includes depictions of Islamophobia; Racism; Institutionalised Racism (Airport Checks, Police Encounters)
Production Guidance: Loud Music and Sounds; Moving Vehicles; Flashing Lights; Confetti; Smoke
Age Guidance: 12+
ACCESS
Q Park Candleriggs has step free access, wheelchair access, lift, disabled parking and disabled toilet facilities. The performance space is located on Level 7 of the Car Park which can be accessed by a lift. Once disembarking from the lift there is a short walk across the car park forecourt down a ramp to the performance space.
BSL interpreted by Tariq Mahmood at the 6.30pm performance on Thu 15 June.
Easy read guide available - download here.
Speakers TV: Watch a series of four conversations exploring Peaceophobia and its themes, produced by Speakers Corner 
Advance Information
LOCATION
Please note this is an off-site performance located at Q Park Candleriggs (Pedestrian access 16 Candleriggs, Merchant City, Glasgow). Details of your meeting point for the performance will be supplied to all ticket bookers in advance of the event.

ARRIVAL
We advise audiences to arrive at least 15-30mins prior to the performances so they have plenty of time to find the location and experience the Sisterhood exhibition at the site prior to the performances commencing. No latecomers will be admitted once the performance begins.
The performance takes place in a covered part of the car-park, however, the sides of the venue are open air so make sure you bring warm clothing in the event of cooler weather.

TRAVEL
The exhibition and performance will take place at Q Park Candleriggs. Located just off Trongate in the Merchant City area, the car park is close to the City Hall and Old Fruitmarket. It is easily reached by public transport.

Bus Stops: The closest Bus Stop to the site is the 'Candleriggs' stop on Trongate which is located a 2 minute walk from the Q-Park (122 metres approx).

Underground: St Enoch Station Underground is a 10minute walk (0.5 miles approx). Buchannan St Underground is a 13 minute walk (0.6 miles approx).
Low Level Train: Argyle St Low Level is a 5 minute walk (0.3 miles approx).

Train Station: Glasgow Central Station is an 11 minute walk (approx. 0.5miles approx).

PAY WHAT YOU CAN
This performance has a Pay What You Can option on a sliding scale. Our recommended ticket price is £14 (Full Price)/£10 (Concession) but we have an allocation of £6 tickets available to remove the barrier of ticket cost for those who need it most and would otherwise struggle to attend.


SISTERHOOD
Accompanying Peaceophobia in the car park is the Sisterhood exhibition created by young women from Bradford Collective Speakers Corner, highlighting their friendship and celebrating femininity, pride, and collective strength. We advise audiences to arrive at least 15-30mins prior to the performances so they have plenty of time to find the location and see the exhibition first. MORE>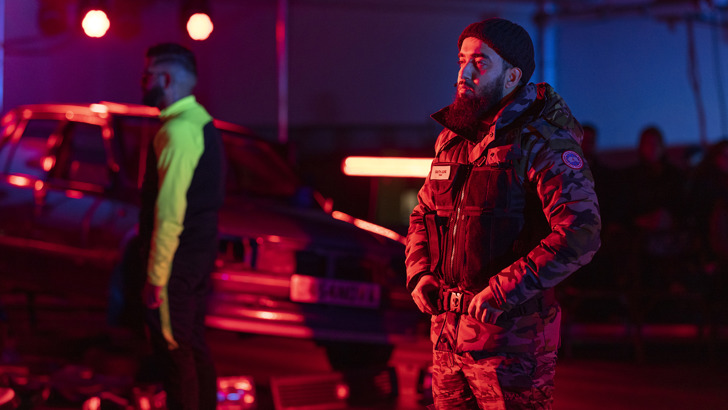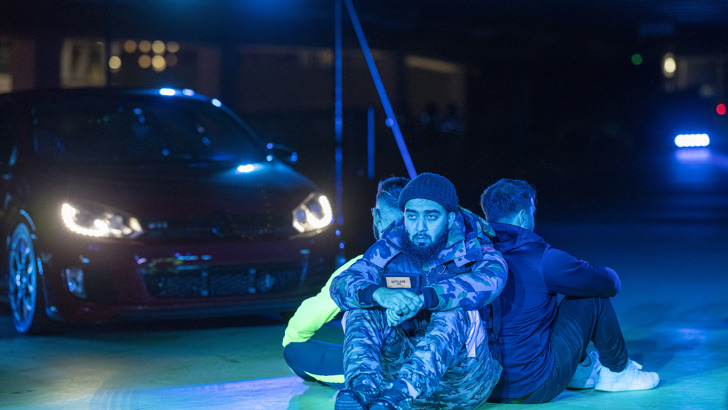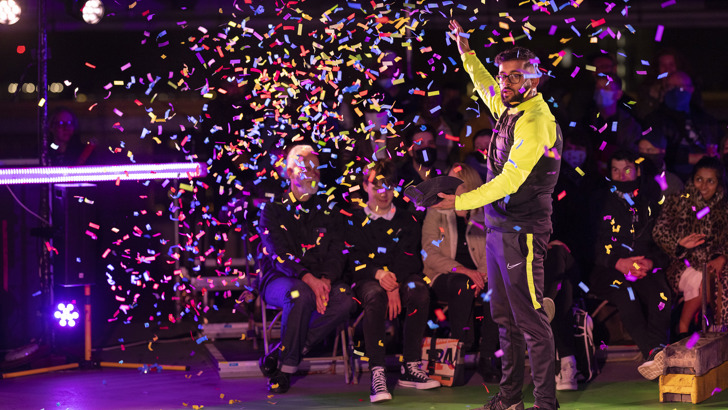 CREDITS
Peaceophobia was conceived in Bradford and co-directed by young women from Speakers' Corner Collective and award-winning theatre company Common Wealth. It was co-written by acclaimed playwright Zia Ahmed and Bradford Modified Club, in co-production with Fuel.
Peaceophobia is supported by Without Walls, Bradford 2025, Co-Creating Change, Arts Council England, Paul Hamlyn Foundation, Pears Foundation, and Fenton Arts Trust. The R&D for Peaceophobia was supported by Blueprint: Without Walls R&D Investment Fund.
Photos on this page by Ian Hodgson